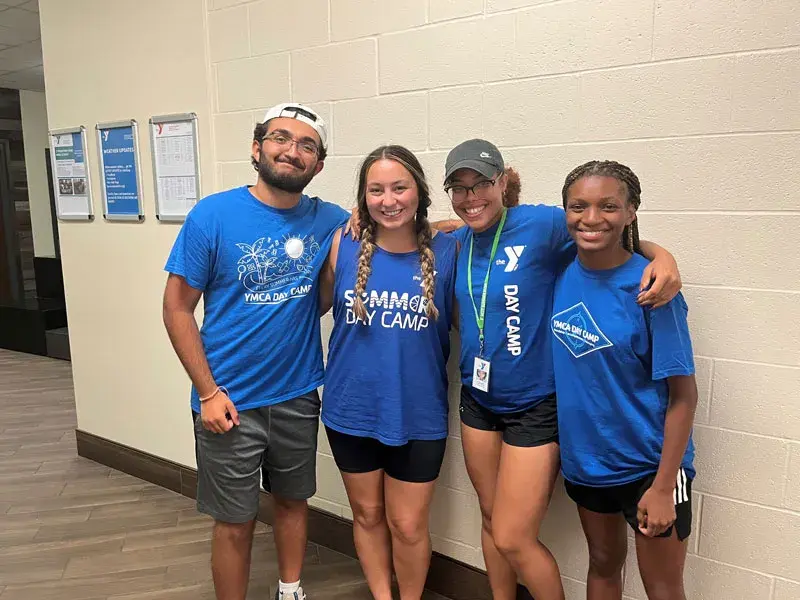 Raspberry, Pancake, Uncle, and Oreo might sound like names out of a children's cartoon series, but they are actually tied to real-life YMCA of Middle Tennessee summer camp counselors. As a way to connect with the youth they serve, these creative nicknames were adopted from aspects of summer day camp they remembered as Y campers. Now, they are spending the summer at the Donelson-Hermitage YMCA helping to create memories for today's youth.
Raspberry, or Camille Cato, is a freshman Animal Science major at MTSU who started as a camper before serving in her role as a youth counselor. Uncle, or Khaled Naimat, a sophomore Sports Management major at UTC, and Oreo, or Brianna Shaw, a senior Physical Therapy major at TSU, all remember the Y camp experience as children.
"I remember how much fun I had and I wanted to create that same fun for kids today," Brianna said. "I didn't realize how much counselors did when I was a kid. We address so many problems that need to be solved."
Lauren Estrada, or Pancakes, is a recent graduate of ETSU. The elementary education major has been connected to the Y "since birth," she said. She attended as a youth camper, then eventually was hired as a lifeguard, camp counselor, and, now, serves as Camp Coordinator. Lauren will join Dupont Elementary in August as a third-grade teacher.
"I love working with children, and I had a positive experience as a camper," she said. One of the things she remembers as a youth camper was wanting to be the line leader—something that hasn't changed for this new generation of campers. "Every kid wants to be line leader!" she laughed.
It's not all fun and games, either. Camp counselors work eight hours a day; forty hours a week. Needed skills include CPR and first-aid training, understanding how to deal with conflict, and managing crisis situations, when necessary.
"The training process was so important for this role," Camille said. "As a camper, I really didn't think about everything that a counselor actually does."
Khaled said one of the aspects he most enjoys about his counselor role is making connections with the youth. He admits times have changed with more competition for attention due to the increased use of cellphones, but he has managed to keep campers occupied by using the camp curriculum and incorporating games to keep them engaged. "I have enjoyed working with the kids and introducing them to sports, and other fun activities," he said, adding that he works with the older kids, ages 11 and 12.
I was shy when I was a kid," Camille said. "I really enjoyed my counselors. They were so much fun and always inclusive. They really tried to bring me out of my shell, build relationships with me, and make sure I had a good time. That's what I am trying to do now that I'm a camp counselor."
Join our team and start your Y journey today at ymcamidtn.org/careers.