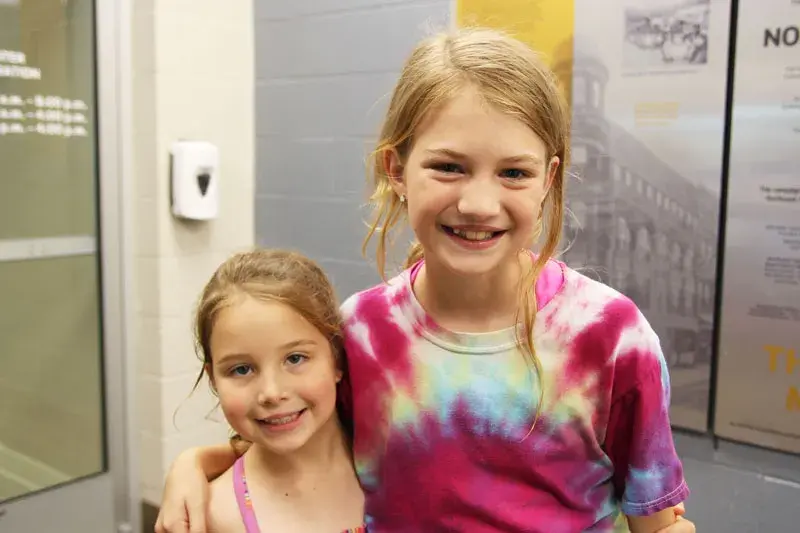 In 2021, after a year of virtual school, Charis (9) and Nia (7) needed to get out of the house. As the YMCA of Middle Tennessee Chaplain, the girls' mom, Dori, wanted her daughters to step back into social settings that would honor COVID-19 protocols but still offered fun activities.
The then-4th and 2nd grader participated in YMCA Day Camp at the Northwest Family YMCA last summer, spending most of their time in the pool—something they missed out on in 2020, Dori shares. Through the experience, they've gotten to meet kids from all different schools across Nashville. "We love that [Charis and Nia] are meeting kids outside of our neighborhood," Dori says. "It is important to our family that our girls have the opportunity to build friendships with other children and counselors who look different from them and come from different backgrounds. We are grateful that the Y's welcoming and inclusive atmosphere fosters this opportunity for our children and for us as parents."
Charis really enjoyed swim time—especially the games that campers got to play in the pool. Nia's favorite part of camp, on the other hand, was playing Capture the Flag. "Honestly, every day has been a new adventure with new friends, fun crafts, and lots of stories about the games they play," Dori says. "Nia even learned to braid her friends' hair. I love how the open play during the before- and after-care time fostered friendships between kids of all ages."
As a parent, Dori really valued the "encouraging, caring atmosphere" at camp, especially because one of her daughters struggled with saying goodbye at drop-off each morning—something Dori believes was intensified through her limited interaction with other kids in virtual school. "All of the counselors were very understanding," she says. "We even met together to come up with the best plan to support Nia. One of my favorite moments when I came to pick up Nia early one day and her age group was walking by me in the hallway. One of the boys in line with her group gave me a thumbs-up and said, 'Nia did great today!' That moment affirmed that we had chosen the right camp for our kids."
Learn more about YMCA Day Camp at ymcamidtn.org/day-camp.