Paula and her daughter Hailey first signed up for the Lambert Dillard Memorial 5K back in 2017, before Hailey's 30th birthday. "We were planning a trip to Walt Disney World in January 2018, and we wanted to start walking more," Paula says. She saw a sign about the Lambert Dillard Memorial 5K at the North Rutherford Family YMCA. A few friends in her accountability group were going to participate, and Paula asked her daughter if she'd be interested in joining. They made the commitment, and started to train.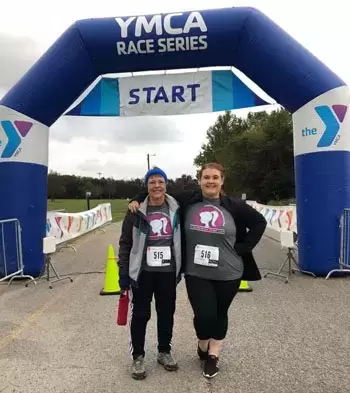 It took dedication. "We tried to increase our walking," Paula says. "Hailey walked in her parking lot at work during breaks and I worked on increasing my endurance at the YMCA. We tried to walk together on the weekends on the greenway near our house." In addition to getting a great workout in, the mother-daughter duo enjoyed sharing time together.
Day-of, Paula and Hailey showed up ready to race. They both walked the entire 5K distance together, alongside other runners and walkers. "This particular race is great for someone who has never done a 5K," Paula shares. "It's almost all level—flat ground in a beautiful location. I highly recommend Sharp Springs Park as a race site for beginners."
When they crossed the finish line, both Paula and Hailey felt "a sense of accomplishment and pride." They were also thrilled to support a great cause, as the Lambert Dillard Memorial Race raises awareness for domestic violence in their community, honoring two local women who lost their lives.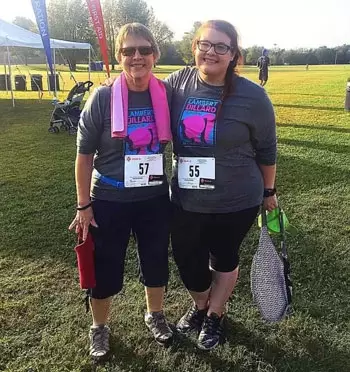 Since that first race, Paula and Hailey have done the Lambert Dillard Memorial 5K two additional times. Together, they've lost a combined 100 pounds. Racing keeps them on track, Paula says. "While the race was not the catalyst for our weight loss, it is a way to hold ourselves accountable for steps and moving more as we prepare for each race. We try to better our speed every year we race."
This year, to keep our racers safe, the Lambert Dillard Memorial 5K/10K is going VIRTUAL! Sign up to complete a 5K or 10K (a new addition this year!) on your own course anytime from September 18-20. You can run, jog, or walk it all at once, or gather your family and split the distance over the weekend. Make it your own and submit your results online to see how they compare to your fellow runners. Join us and run for a great cause!