Ann and Benjamin Small love their East Nashville community. Every August, they mark the Tomato Art Fest on their calendar. Their weekend always kicks off with the Margaret Maddox Tomato 5K. "It's a staple," Ann says. "There's no better way to start the Saturday celebration than running with friends!"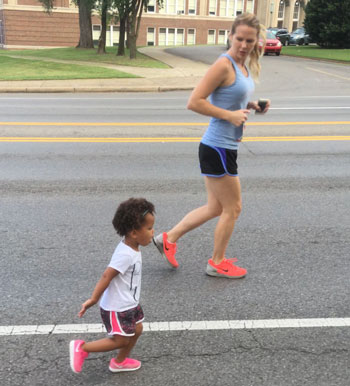 It's more than just a race for this East Side couple, however. It's a family affair for all ages. They've been part of the Tomato 5K for five years, and have two young kids—Averee and Langston. Ann is a runner, and she loves to race. "I ran more half marathons and marathons before having kids, but, once I had kids, I wanted to include them in the fun," she says. Ann and Benjamin set a goal: Run six 5Ks throughout the year, and do at least three with the whole family.
Averee's first 5K happened at just two years old. She's now completed the Tomato 5K three times. "She loves hearing people cheer her on," Ann says. "She's a pretty natural runner. We set small goals throughout the race: just make it to this corner, just make it to that water stop, and then we can take a little walk break."
Their running goal led to more and more 5Ks. In 2019, they ran the Tomato 5K as an active family of four, with little Langston in tow. "Hopefully, it was our last year running with strollers!"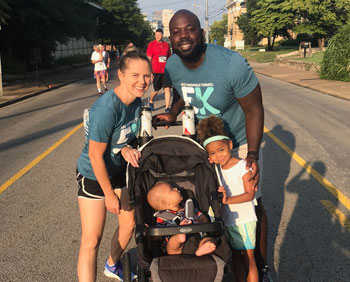 The race, and a love of running, has become an annual tradition for the Small family. "We love the East Nashville community—it is truly one-of-a-kind and filled with so many of our favorite people—and running 5Ks. We are gaining more and more friends who we see running in the Tomato 5K, and it's always fun to cheer each other on."
This year's Tomato 5K is virtual for the safety of our community—which means that even more friends can join in the fun. On August 7-9, grab your best tomato-themed outfit, map your run, and cheer on the other runners you see as you take on the Tomato 5K in your very own neighborhood. Your race registration includes the annual Tomato 5K race shirt, a discount to the 2021 race, and an exclusive medal for the first 200 registrants! Learn more here.