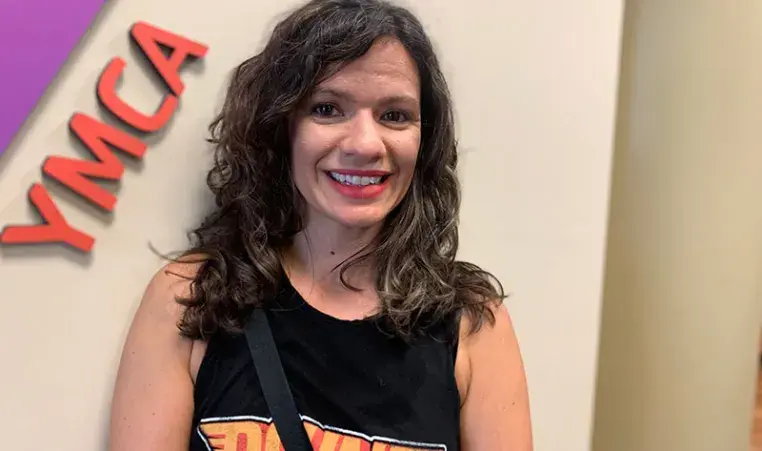 Christ Church YMCA instructor Tara Allen teaches a Zumba/BollyX fusion class on Wednesdays at 6:30 p.m.
Inspired by the Indian Hindi-language film industry known as Bollywood, BollyX incorporates dance and HIIT training.
"At the end of a Bollywood movie," Tara explains, "there is a choreographed dance featuring the characters. (BollyX) is derived from that."
BollyX is growing in popularity and was featured on ABC's Shark Tank. The class is new to the Y, and we are thrilled to have Tara leading the way.
For Tara, trying something new isn't just about increasing fitness. "It's a social thing. You build your tribe. When you try something new, you're going to create new brain connections, which is going to increase your creativity."
You wouldn't know it unless you asked, but Tara didn't grow up dancing. She started dancing as an adult when a stranger asked her to dance while she was out with friends.
Tara admits she wasn't great at first. She gave Zumba a try, and things started to click when she found the right instructors.
Over the years, Tara has achieved certifications in Zumba, POUND, BollyX and more! She's taught all over including in Chicago, Iowa and now in Middle Tennessee.
Tara says she's excited to join the Y because of our mission. "My heart is community. I think that what the Y is doing as far as the community aspect is prolonging its quality of life and longevity. And to me, that's important."
Tidbits: Tara has a teenage daughter and loves executing community fitness events. She stays busy! She's also a federal auditor, professor, painting instructor and culinary buff.