Fitness for a Firefighter's Family
Abe works 24-hour shifts as a Nashville firefighter. Exercising at the Y helps him last through long, tough days.
"It helps me keep my fitness. Running on the treadmill, when I can't do it outside when it's cold, and then, of course, weights."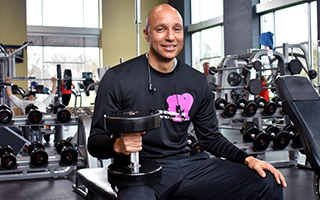 His wife and two young children also enjoy activities like swimming, basketball, and summer camp.
"I love the staff, and it's family-oriented," he said. "There's just something for everybody here."
Abe waved hello to a Smyrna fireman across the wellness floor. The tight-knit community at the Y makes a difference for him.
"You just don't feel pressure like everyone's looking at you. It's real easy-going. Everyone loves, I imagine, what the Y stands for. It means family, I think."
We asked if he had any advice for others who are trying to stay in shape.
"I think everything in moderation. That's my advice," Abe said. "Set attainable goals. Start small and just work your way up."
Thanks for helping keep our community safe, Abe!