Friends Achieve More Together
Amy and Sarah met in Pilates class four years ago and became fast friends. Their kids have grown up together in Y-Play, and they've developed a strong community at the Y.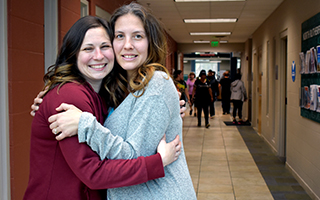 "We've been through a lot," Sarah said (pictured right). "It's like a family here."
"It definitely feels like family," Amy agreed. "You meet people. Your face becomes familiar, and before you know it, they're waving hi to you in the entryway. And after that, four years later, you've got best friends here."
Instructors and fellow members have continued to encourage the women to try new exercises and challenge themselves. A few years back, they joined the center's running group and achieved a big goal.
"All the people in the group inspired me and Sarah. I personally had never done this in my life. We ran a half marathon," Amy said.
"It was on our bucket list," Sarah added.
The community has also supported them through tough times, like when Sarah had a serious injury and surgery that kept her from coming in and when Amy's youngest child was born early.
"People ask about you and they care about you," Sarah said.
"Oh yeah, I had people calling and texting that I didn't even know had my number," Amy said, laughing. "But it was so great to get those well-meaning messages."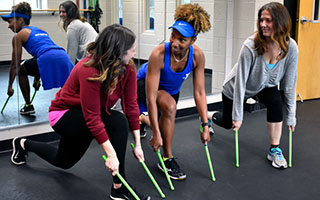 When she was able to begin exercising again, Amy said the modifications offered by the instructors helped her grow healthier and stronger—similar to the adjustments they helped Sarah make when she was recovering from injury.
These days, the friends are back up to speed and considering signing up for another half marathon. Whatever their goals may be, the Y community will be there to help them succeed.
"They help hold you accountable. They make you want to come," Amy said. "There's never going to be a time when you come to the gym and say, 'I wished I hadn't done that.' Who does that? Nobody. You're glad you did it. You feel good."
"It helps to suffer together too!" Sarah chimed in.
"Yes, when your friend is there, you get to laugh along and go, 'This is so hard, but we're not dying!'" Amy said. And when asked to share one of these favorite memories from her and Sarah's four years of sweating it out together—and so much more—she gave the assured response, "There's too many to count."