Time Flies When You're Having Fun
Merrill's all about group exercise now that she's back at the Y.
"I've been doing the Sh'bam class. It's kind of like a dance class, and it's really good. The instructor is amazing. She pushes us all, and everyone seems to have a really good time."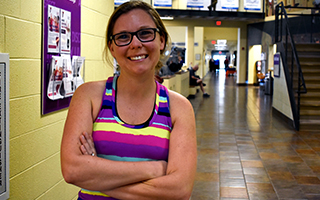 She chatted with us for a few minutes before heading into her class. We asked what it was like working out again after spending time raising her three kids.
"I kind of got out of shape having young children, and so getting back to the Y has been helpful because I can put them in Y-Play while I work out. I've also been able to take them to the indoor pool a lot, which they love."
What motivates you to keep showing up?
"It gets easier the more I do it, and it's fun. The time goes fast, and you're working out while having fun."
Does attending a regular class help you stay accountable?
"Yeah, absolutely. You see the same people in the classes and you get used to being with the same group, and you can grow and work together."
Do you have any goals for this year?
"Sure, I want to be able to progress and keep working out at least three or four times a week. And keep the kids swimming and keep us doing better as a family, getting back into being healthier."
What advice do you have for others who want to get back into group exercise?
"Just know that it's going to take some time to get into the routine, and it gets easier each class. Classes typically take like three or four times at least to start getting the hang of it. Definitely there have been classes I've come to that I don't want to come back to, but if you push through that initial couple of classes, it's just fun. And the workout goes fast because you're having fun."
That's great advice. It's worth trying a few classes to find the right fit for you. Thanks, Merrill!