Teamwork Takes Center Stage
Meet the Old Man Workout Group (OMWG), as they call themselves.
You can track them down in the mornings by listening for their jovial chatter. But don't let their wisecracking fool you. They work hard.
Curtis, Vince, Mick, Gary, and Bobby (pictured left to right) count on each other for exercise six days a week. Several of the men have lost some serious weight, and all say they're stronger and healthier since they joined forces three years ago.
Their routine includes making use of everything the Robertson center has to offer—cardio machines, weights, the pool, the sauna, and even dance class on Tuesdays.
Mick: Yeah, that's the lead dancer, "Bobby Travolta."
Vince: It's fun.
Curtis: You have to know how to get that boogie on.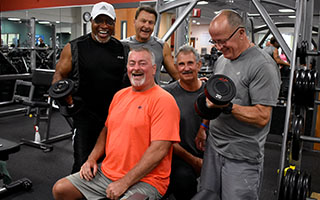 Whether they're dancing, pumping iron, or solving the world's problems while soaking in the hot tub, the men agree that community is the way to go if you're looking to improve your health. They all joined the Y together through the Member Referral Program.
Vince: If you're gonna come to the Y, it's best to work with a group that makes you want to come every day.
Some other members also make a point to come in at the same time as the group because they're encouraging to be around. It's clear they've created something special and wonderfully contagious.
Any parting advice, fellas?
Vince: It makes you feel better to come to the gym.
Bobby: To better your life.
Curtis: Mentally and physically and socially.
Vince: We are a team to where if we are 15 minutes late, it throws us off the rest of the day.
Curtis: We're on schedule.
So, teamwork and timeliness. Noted! Thanks, OMWG!