A Healthier Bottom Line

Improve the health and well-being of your workforce by partnering with the YMCA's Corporate Partnerships program. Healthy employees create successful organizations by increasing a company's productivity, decreasing absenteeism and lowering health care costs.
A YMCA Corporate Partnerships program can help your employees succeed with:
Unlimited access to state-of-the-art facilities
The area's largest collection of indoor pools and outdoor water parks
Access to various support groups, such as YMCA's Weight Loss Program
Thousands of weekly group exercise classes including Zumba™, indoor cycling, yoga and water fitness
Community events for all ages
Free supervised activities for children and youth while you work out (*Children must be members)
Access to more than 2,400 YMCAs through the YMCA's Nationwide Membership Program
Convenient payroll deduction option
Employer contribution plans
30-day money back guarantee
Partnership plan options:
---
Corporate Wellness Program
The Y's Corporate Wellness Program helps employers develop a customized onsite wellness program for their employees, while also connecting them to YMCA facilities through our Corporate Partnerships Program. We offer three different wellness packages to ensure you find the perfect fit for your workplace.
YMCA's Weight Loss Program
(12 weeks)
Healthy lifestyle education
Weekly sessions
Create weight loss plans
Build SMART goals
Healthy Lifestyle Program
(12 weeks)
Body Composition Assessments
Onsite group exercise
Nutrition education
Lunch and Learn presentations
Couch to 5K Program
(8-9 weeks)
Introductory presentation
Nutrition education
Strength and stretching
Running coach
Program and Service Offerings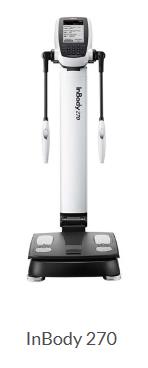 InBody Composition Analysis
The InBody 270 measures your body composition in less than 60 seconds with an accuracy rate of 98 percent. Each employee receives a results printout listing the following body composition components:
 
Weight
Total Body Water
Body Mass Index
Body Fat Mass
Muscle-Fat Analysis
Basal Metabolic Rate
Skeletal Muscle Mass
Percent Body Fat
Segmental Lean Analysis
Body Compostion History

Additional Offerings
On-site fitness assessments
On-site group fitness classes
Fun and competitive health challenges
Spirit-Mind relaxation sessions
Cooking demos
Health Fair planning and execution
Interactive well-being workshops
Get Started
Contact our Corporate Partners team or fill out our Inquiry Form to learn more about the benefits of partnering with the YMCA.