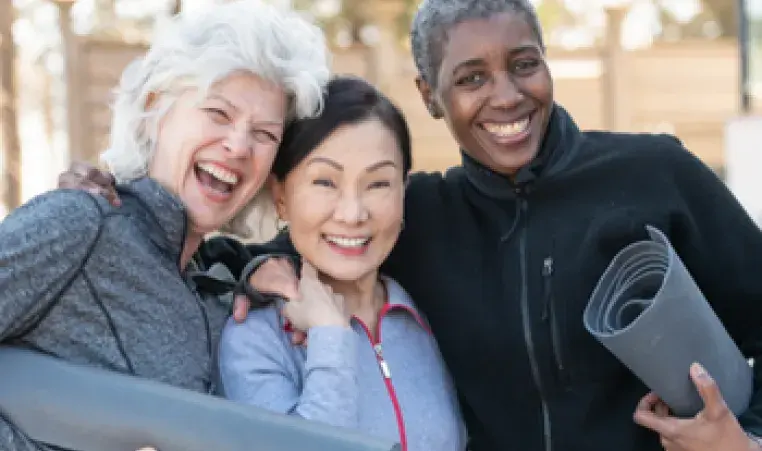 At the YMCA of Middle Tennessee, we offer a variety of fitness classes and activities for adults over 65 through our Active Older Adults (AOA) program. Our AOA offerings not only help members of all ages to stay active and pursue better health—they also connect individuals with new friendships, spirit-mind support, fun opportunities and holistic wellness options to increase flexibility, improve sleep and lower the risk of heart attack. Plus, engaging in our Active Older Adults community is one way that we're fighting rising social isolation: one member, one class, one cup of coffee and one early morning lap swim at a time. Win-win-win!  
STAY ACTIVE  
As a member of the Y, Active Older Adults have several specialized group exercise class options that are designed for lower impact. These group classes can help increase flexibility, strength and balance. Each class operates at a comfortable pace with an encouraging instructor and some classes even take place in the water! Options include: 
AOA CARDIO: This heart-healthy class is perfect for anyone looking for a safe way to build their fitness level and endurance. Low-impact exercises include agility, cardio and strength training, keeping your heart rate elevated throughout the class. AOA Cardio uses minimal equipment, and we even offer H2O Cardio for a water-based option. Don't let the title fool you, though—you'll be working against the water's natural resistance so you'll still come away with a full-body workout.  
AOA DANCE: Using easy-to-follow dance moves set to music from past to present, this energetic and exciting class will have you burning the calories away in no time! AOA Dance is a lower impact version of our Dance Blast and Zumba group exercise classes. 
AOA STRENGTH: This class provides a full-body strength workout using various pieces of equipment such as hand weights, barbells, tubes, bands, exercise balls and even your own body weight. Chairs may also be used for support. Some of these AOA strength classes also take place in our pool.  
AOA CIRCUIT: This circuit-style workout builds strength and stamina. Challenge your heart and major muscle groups using a variety of equipment like dumbbells and resistance bands to move through a series of strength and cardio exercises. This class is designed to move at your own pace. 
AOA YOGA: Our Active Older Adults Yoga classes prepare participants at all fitness levels for everyday life. The use of a chair is used for support while doing a variety of exercises designed to increase flexibility, balance and range of movement. These are practical, strength-building movements—ones that help you better lift your grandkids, improve range of motion and reduce stress.   
 
FIND A NEW WELLNESS ROUTINE  
It is never too late to set a new goal or achieve a new success. At the YMCA, we offer several specialized wellness programs to help you reach your healthy living goals. 
 
FIND COMMUNITY & CONNECTION  
Across our 14 membership centers in Middle Tennessee, the Y offers monthly AOA events to help members make new friends, get out of the house, try unique experiences and even visit exciting places! Some of our most popular events include the Senior Luau, Line Dancing, Chili Cook-Off, Thanksgiving and Christmas Lunches, Bingo and AOA Painting. For more information on Active Older Adult activities and events please visit our AOA page here. 
LEARN, GROW AND THRIVE
The world is constantly changing, so we want to make sure that our Active Older Adults are equipped with the life skills and support they need to thrive even outside of the Y's walls. We offer classes in conjunction with local community partners on topics like fall prevention, financial literacy, scam prevention and information technology. Many of these classes are provided through monthly "Lunch and Learn" meet-ups, where participants can join together in a safe space to engage, enjoy lunch and learn a new skill. 
  
Regardless of your circumstances or fitness level, join our Active Older Adults program at a center near you and learn more about how the Y can continue to serve you. Visit TryTheY.com to join us, or click here to view schedules.