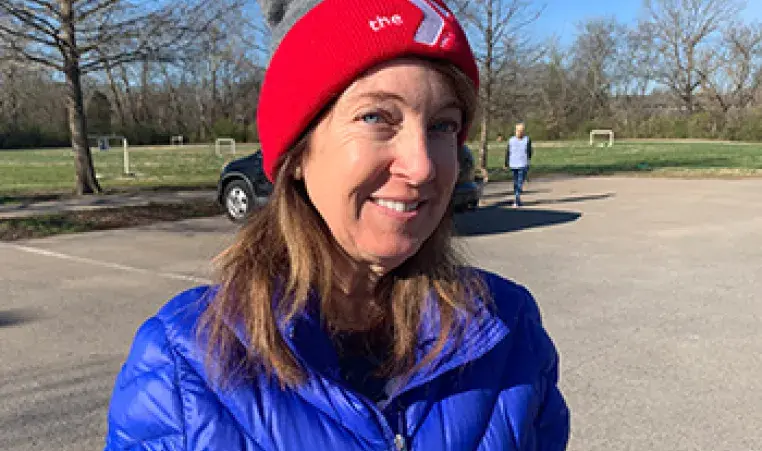 Come to Brentwood Y on Tuesday or Thursday morning, and you'll likely see people gathering in the hallways and gym area. The group embarks on a run on the surrounding greenway at 9 a.m.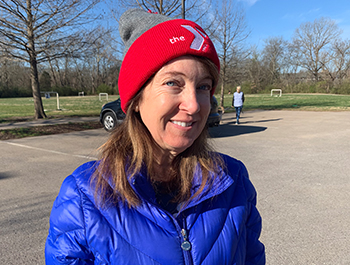 Diane Bolton, one of the group's leaders, keeps it fun with a mileage chart and a list of challenges to keep the group engaged. Challenges range from bringing a friend to trying a new class at the Y.
Participants' levels and goals vary. Some are training for their first marathon, others for their first 5K. Some are there to just have fun and stay healthy.
That's how it began for Diane Bolton back in 2003. "I was diagnosed with high cholesterol. That's what brought me in the door."
Diane tips her toes in running
She took advantage of the Y's youth programs for her three kids. Her daughter was on the swim team and her sons played soccer. Her husband – a baseball player–worked out regularly at the Y. For Diane, it was a simple flier on the door that pushed her into action. "I came to the Y one day and there was a sign on the door that read 'Train to run your first 5K'. So I signed up."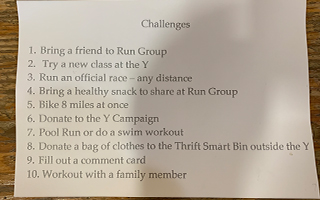 But it didn't come easy for Diane. "I was the class flunkie. I would go for a couple of weeks. Just trying to run a mile was difficult." Discouraged, Diane missed a couple of weeks, only to find herself even further behind when she came back. "Since I had missed weeks, I couldn't keep up." But this time, she resolved to stick with it.
All 50 states (and Antarctica)
The consistency paid off. "I ended up running a half marathon with the group. Then I did a marathon. I've been running ever since."
She isn't kidding. Diane has completed a marathon in all 50 states and has even run 26.2 in Antarctica. But for her, it's about much more than the miles. When asked what her favorite aspect of the Y, she doesn't miss a beat. "First and foremost, it's the people and camaraderie."
Inspiring others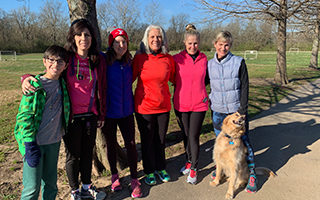 In 2008, Diane volunteered to take on a leadership role with the run club when previous instructors stepped away. Diane took on the role because she gets joy out of seeing others succeed. "I had about 6 people a few years ago that finished their first marathon by training with this run club. That's a just a joy to see. To remember when they didn't think they could run a mile and here there are out there running 26.2 miles."
One of those participants is Lynn Gillespie Chater. Lynn met Diane sitting in the hot tub nine years ago. Diane shared that she was training for a marathon. Lynn was impressed and recalls telling Diane, "I can't even run to the exit sign without sucking air. I could never run. Diane encouraged her to try and join the running group.
About two months later, Lynn took up Diane on her offer for a casual run/walk session. Much like Diane's initial attempts, Lynn struggled. "I started and seriously within the first 30 seconds I was screaming, 'How much more time?'"
She stuck with it. "I finally got to where I could run 5 miles. I signed up for my first 10K and stuck with the group.Since then I've done seven half marathons." And in 2016, Lynn completed a full marathon at the Nashville Rock 'n' Roll Marathon. She has run in the YMCA of Middle Tennessee's Harvest Half since it began and is a regular at the Andrews Cadillac 5K/10K at the Maryland Farms Y.
For Diane that's what's it's all about. What's her greatest accomplishment? "Inspiring somebody," she said. If I can inspire somebody - and doesn't have to be in running - in any aspect. It's thrilling for me."
Join the running group
All are welcome to join the running group at the Brentwood Y. The group meets in the hallway outside the gym at 8:45 a.m. on Tuesdays and Thursdays. Regardless of your level, Diane and the other members will help you reach your goals.