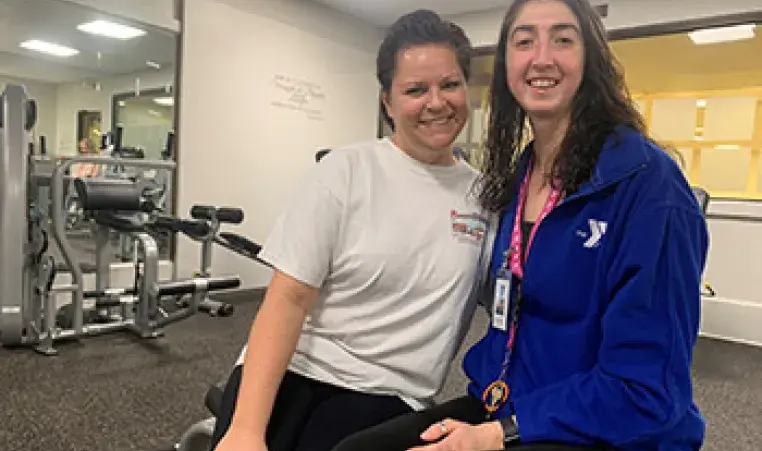 When Nikki was diagnosed with breast cancer, she was devastated and worried about her family.
"I was just 36 years old, and I had two children and a husband. I was not ready to die. I remember saying, 'I have so much more life to live.'"
She chatted with us before a workout with Pink-Ribbon Certified Trainers Jackie and Lauren at the Maryland Farms Y.
"I am excited because if I can share my story and help just one person, that is one less person who has to struggle."
We asked about her experience in After Breast Cancer, a program by survivors for survivors. ABC participants often form deep bonds with each other as they find normalcy after diagnosis.
"I was able to make many more relationships with complete strangers. I know that I am a part of the sorority that no one wants in, but once you are in you are so blessed."
Nikki said she didn't want to waste any time.
"I was so ready to tackle the road ahead. I am naturally competitive so I wanted to get started and get this cancer out of my body as soon as possible."
Despite the rocky road, she tried to keep life as normal as possible for the sake of her kids.
"I tried my best for it not to change very much. I worked every day—only taking off on chemo treatment days. I made all my boys' games that I was allowed to. My chest was hindered in some everyday living, but I worked around it."
The hardship only brought Nikki and her husband closer.
"We are best friends and lean on each other for everything. This was no different. We became stronger, and he made sure to remind me every day how strong I was and how beautiful I was."
The ABC program includes exercise and nutrition, which helped her get back to healthy habits.
"I ate fast food a lot and was not thinking of the impact of what I was putting in my body. I love fruits and veggies, so just knowing the benefits of them and what I eat and drink now and the pros and cons of them has been eye-opening."
We asked Nikki to describe the ABC program in one word.
"Powerful."
Go Deeper
To learn more about our After Breast Cancer Program, visit our website!