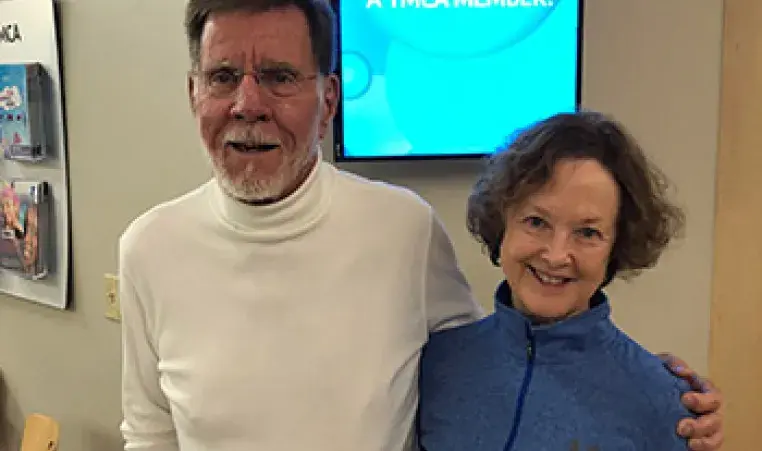 Meet the 80-year Y member who helped build the Robertson County facility
It's 6 a.m. at the Robertson County Y, and the café is abuzz. As members make their way into the building, Roger Blackwood and his friends are holding court. They're telling stories – and in some cases, fudging the details.
Blackwood and his friends affectionately refer to themselves as The Liars' Table. "There's more lies told than Carter has Little Liver Pills. It's wonderful," Roger said about the group. If you're wondering, that saying refers to a once-popular medicine billed as a cure-all for headaches and stomachaches.
But long before there was a Liars' Table, or even a Y in Robertson County, there was Roger Blackwood.
80-year Membership
Roger has been a part of the Y since 1940 when he was 5 years old. Staff and friends celebrated his 80-year anniversary as a Y member in February.
His Y story began at the Downtown Nashville Y. When his family relocated to Indiana during World War II, he went to the Y in Evansville, Indiana, and then went to Camp Carson where he earned ribbons for nearly every athletic competition there was.
"I was so good, they would let me compete but they wouldn't let me win," he laughs. A tall tale for the Liars' Table, or the truth? We'll never know.
A beacon of hope
The Y was one of the few positive influences in Roger's childhood. His grandfather, one of the world's largest tire distributors, sold his company to Goodyear in 1928 before the Great Depression. He left his family a small fortune which Roger's father and uncle squandered.
Roger's home life was fraught with hardship. He was diagnosed with learning disabilities including dyslexia, which was largely misunderstood at the time. Roger's father abandoned his family when he was 7. His mother abandoned him when he was 10 and he was sent to live with his grandmother who abandoned him when he was 13. These events led to Roger living on the streets and fending for himself.
But Roger fought against the odds. The mother of a boy Roger knew from school took him in. A middle school teacher taught Roger to read. And he continued to go to the one place where he always belonged – the Y.
The road to Springfield
While studying engineering in college Roger designed equipment, some of which was used to dig a tunnel in Gatlinburg. He amassed a small fortune of his own by buying 24 companies that were struggling and rejuvenated them. He consulted for 208 companies, nationally and internationally, and was involved in constructing more than 300 tunnels, bridges and buildings.
His success led him to Springfield, where he bought a farm. It didn't take long for Roger to become one of the area's most influential residents. And lucky for the Y, he was singing its praises.
"The Y is the best thing that ever happened to me. I don't believe I would be where I am today without those experiences."
Paying it forward
Roger spent 25 years serving in public offices in Springfield. He served on the economic board for 17 years, serving as chairman for 10. He also served on the county commission for 8 years and chaired 6 committees. Once a primarily agricultural community, the area grew rapidly as Nashville's high profile pushed expansion further outside the city limits.
Roger recalled getting together with other residents to discuss the area's Y, a small facility once housed in an old Post Office building. "It was basically nothing. A bunch of us got together and decided we needed a real YMCA." Roger made it his mission. "We're going to have a Y and I'm going to build it!" His declaration was a success.
Building the Robertson County Y
Creating buy-in from the community wasn't always easy. "The community wasn't health conscious and didn't understand the value of the Y," he said of his challenging fundraising efforts.
But like his learning disabilities and family hardships, Roger overcame those obstacles. He helped to secure the necessary funding through a grassroots effort to educate the community and bring businesses to the table.
He used his engineering background to help design the facility and leveraged his contacts in the industry to save money on the construction. He was determined.
"My whole life I've been so much on board with what the YMCA does. So many people helped me in my life and most of them were YMCA people. I couldn't look myself in the mirror if I couldn't do what the Y needed me to do," he said.
The Robertson County YMCA opened its doors in 1996. But Roger's work wasn't done.
A family affair
Roger's wife Nancy has played a large role in the facility's expansion as well. She spearheaded the effort to build the Love Grows Community Gardens on the property. Teens from the Y's Community Action Project (Y-CAP) learn how to plant, maintain and harvest the garden.
"Nancy started that. We designed a system where we have solar panels and irrigation to teach the kids about free water and free energy. They can take (the harvest) and cook with it and take it home. I don't know anywhere else you can do that but the Y," Roger said.
Nancy regularly plays pickleball in the gym. Once a star athlete, Roger had to slow down in recent years as he suffers from Lupus and chronic denervation in his leg. But the couple still goes to the Y six days per week and works out before Roger takes his seat among friends at The Liars' Table.
"When you walk in the door, everybody's the same. Everybody's treated the same. I've never been anywhere in my life where that's the case," he said.
In speaking with Roger about his history with the Y, his desire to build a facility and his continued commitment to sustain it, YMCA of Middle Tennessee staff members were in awe of his story.
But Roger was quick to take the attention away from himself. "I'm just an ordinary human who's been very fortunate. I have so much love for the Y. I know what it has done for people. I don't want to be the headline. The Y is the headline."