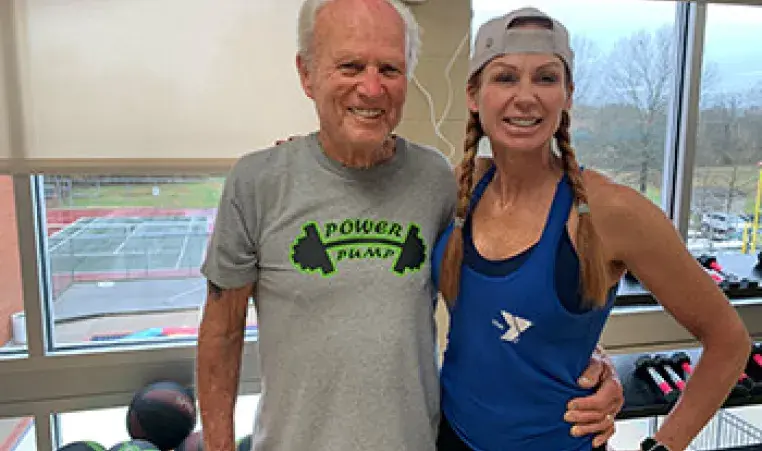 Judd knew he had to stay busy to be happy. That's why less than two weeks after retiring, he came to work part-time at the Brentwood Y. He also found something else to prevent boredom – group fitness classes.
Recently classmates from his strength class at the Y celebrated his 82nd birthday with 82 jumping jacks. That was just the warm-up! Judd shows no signs of slowing down. "My days are numbered by the Lord, but the Y has helped me prolong my life," he said.
His dedication to fitness only grows with age. "It's been a way of life for me. It's not only good for me physically, but it's good emotionally. It's a way to express myself."
Class regulars show concern on the rare occasion that he isn't in class. "It's amazing. The people in the class not only show me respect, but they show concern for me. If I'm not there, they want to know why," Judd said.
Their bond extends outside the Y. Judd said that last year, 32 Y members came to hear him sing in his church choir.
A majority of the regulars in his classes are women. But Judd's wife of 47 years, Victoria, says she doesn't mind! "We still laugh about a phone call from two years ago around Judd's 80th birthday. The ladies from his class wanted to treat him to lunch to celebrate. He calls and said, 'The ladies from class want to take me to lunch. Are you OK with that?'" she said with a laugh. "I told him to go ahead and have fun. I'll never forget that." 
Group fitness instructor Audrea Webb says she looks forward to seeing Judd three times per week. "He is kind and compassionate to all his class friends and quite the prayer warrior for us as we need.  He is a healthy man to be honored and celebrated."
Judd's worked with children from the Y's Community Action Project (Y-CAP) in both East Nashville and Williamson County. He' also worked with children from the Brentwood Y's Academics in Action after school program and skate park, and the Teen Center.