Friends Grow Stronger Together
When Jeni Lind Brinkman (center) found colleagues at the Tennessee Department of Environment and Conservation who also exercised at the Y, she suggested they join forces. A year and a half later, the trio is stronger than ever — not just physically, but as friends.
"I feel like we've all reached a lot of milestones working out together. It's fun. It's our social time away from work, but it's had a purpose," she said.
Jeni Lind sends out a calendar invite titled "YMCA" every week, and the group meets to walk over from the office. Between juggling jobs and kids and everything else, they've learned midday works best for their busy schedules.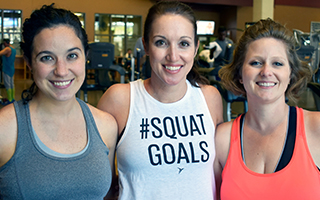 "We all have very demanding careers and families," Jeni Lind said. "So this has really helped us be consistent."
Kendra Abkowitz (pictured left) joined the group while pregnant with her first child. In addition to helping her stay healthy, the women lent her support and guidance.
"I've learned a lot from both of them, who already each have two kids, so they were able to tell me about preparing for being a mom," Kendra said. She stayed with their challenging exercise routine up until the week she gave birth.
"They offered to take me out to lunch the Friday before, and I said, 'Actually can we go to the gym one more time?'" she recalled, and all three laughed.
"She was nine months pregnant, and I was trying to keep up with her!" Jeni Lind said.
Kettlebell workouts have become the group's favorite because of their versatility. They allow a wide-range of exercises with varying degrees of difficulty in a small space. The consistent routine has also provided an opportunity to measure their progress.
Jeni Lind bragged on her friend: "Casey has really had strength gains. When we first started, she wasn't even using weights, and now she's throwing a 20-pound kettlebell around like it's nothing."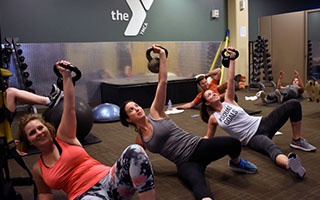 Casey Mahoney (top right) credits the women's encouragement, especially on those inevitable days you don't feel like exercising. "If Jeni Lind and Kendra are waiting for me, I'm like 'I gotta go,'" she said. "We are accountability partners."
In fact, the group jokes that it's like Vegas. Whatever happens at the Y, stays at the Y. Jeni Lind said it's given them freedom to appreciate their unique personalities and grow stronger together. During the election, they even used opposing political beliefs to increase the difficulty of their workouts.
"We are very different in viewpoints, but we had some great discussions along the way, and it feels like the gym is a safe zone," Jeni Lind said.
Kendra agreed, "Because we are all here for the same main priority."
Then Casey added, "And we care about each other."