Together We Can Do So Much More
The Y believes that everyone in our community deserves the chance to belong and be well. Achieving wellness looks different for every individual. When you give to the Y you help your neighbors find the resources and support they need to be well in spirit, mind and body.
ASSOCIATION IMPACT
Our mission: A worldwide charitable fellowship united by a common loyalty to Jesus Christ for the purpose of helping people grow in spirit, mind and body.
FOR ALL
Simply put the Y is for everyone. Inspired by our Christian mission, we believe that keeping our doors open to all only strengthens our YMCA and its ability to meet the needs of the communities we serve. In an increasingly global society, fortifying our commitment to inclusive behaviors, policies, and environments is more important than ever. The YMCA values and respects the diverse nature of the individuals and communities we serve, and chooses to be inclusive through its acceptance of all individuals.
The YMCA believes that every child has potential. Serving more than 79,000 kids across Middle Tennessee, the Y's youth programs help kids learn critical life skills, discover their passions and grow in confidence.
48,721 youth are finding a place to belong through a Y membership
7,391 youth have developed life-saving skills in swim lessons
11,950 youth have learned the value of teamwork through sports
7,267 youth are experiencing enrichment in before- and after-school care
7,208 youth are nurturing new friendships and skills at summer camp
The YMCA believes in a holistic approach to community health that supports each person's spirit, mind and body—an approach that makes it possible for more than 190,000 people from all walks of life to belong and make healthy choices every day.
14 family-friendly membership centers
793,739 square feet of space for people to improve their health and wellness
190,083 members growing in sprirt, mind, and body
1,875 weekly group exercise classes fostering accountability and community.
700 group exercise instructors encouraging members in their goals
The YMCA believes everyone in our community deserves the chance to belong and be well. Whatever circumstances individuals are facing—be they financial hardship, hunger or social isolation—the Y strives to meet those needs.
$3.3 million in membership financial assistance provided
35,344 members benefiting from financial assistance
$8.1 million in overall charitable supported reinvested in the community, granting individuals and families access to the Y's life-changing programs and services
154,207 meals served to kids in before-and-after-school care and summer programs, many of whom face hunger and food insecurity
---
NORTH RUTHERFORD YMCA IMPACT
In 2022 the North Rutherford YMCA annual budget is set to scholarship $203,000, with an average of $300 per family. In 2022 we will give out over $70,000 more in Financial Aid then we gave in 2021. All funds raised by the North Rutherford YMCA STAY in Rutherford County. Help support your community by giving today!
Check out some of the programs your donations help support as well as ways to get involved below!
---
open doors at the North Rutherford ymca
Currently, the North Rutherford YMCA has 4,187 membership units, with 675 of those units on Open Doors. This means 16% of our membership units are on a scholarship program sponsored by the Y. This number does not reflect the total number of members or children that are served on this scholarship program. 
Of those units on our Open Doors program, there are 362 units are on Level 4, meaning the household income is less than $30,000. 

---
COULD ADD ADDITIONAL SECTIONS FOR IMPACT NUMBERS ON SAFETY AROUND WATER/SWIM LESSONS, SUMMER DAY CAMP, AND SPORTS
---
After Breast Cancer (ABC) Program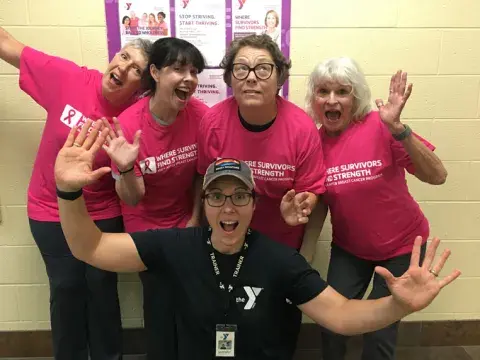 The YMCA of Middle Tennessee's After Breast Cancer (ABC) Program was designed by survivors, for survivors, to provide education and healing for the mind, body and spirit after a breast cancer diagnosis. During the free 16-week program, you'll find a community of other survivors to help you through as you bridge that gap of "treatment's over… now what?"
Together, along with a team of professionals, you'll begin to define and discover your own unique "new normal" through supervised exercise, nutrition classes and discussion groups.
QUICK INFO
NR has served 31 survivors with an in-person program and the Virtual program has served 10 ladies as of June 2022.
The cost breakdown on the "Value of ABC" is $2,127 for the 16-week program
Testimonials: 

"ABC got me moving again. After cancer, I had become sedentary, so I'm thankful to be physically active again"

"8 years ago I went through a divorce and then 2 breast cancer diagnoses. Completing Journey to Wholeness small group made me realize I had stopped dreaming. Now I have dreams for my future again and that feels so good"

"I had nowhere to talk about the emotional aspect of breast cancer with someone who understood. The ABC program gave me a safe place to talk about and process the emotional side of it" 
 
Ashton Thomas Memorial Golf Classic
Named in honor of former YMCA employee and Tennessee Air National Guard member Ashton Thomas, our golf tournament honors Ashton's memory and celebrates his commitment to making every day count. His loving personality and passion for life brought joy to so many children in our YMCA youth development programs. Tee off with us and follow Ashton's advice: "Make it count!". 
In 2022 we raised $35,000 for youth development
1 in 5 of our local campers are able to attend camp through financial assistance provided by the YMCA
As of June 2022, we have given out over $6,700 in financial assistance for working parents to have a safe place for their kids to be this summer
Drowning prevention is a big part of YMCA Summer Camp. Our aquatics department is set to give out free swim lessons this summer to our local youth ages 5-12. That equates to $18,000 in services provided.
---
Lambert Dillard 5k/10k Memorial Race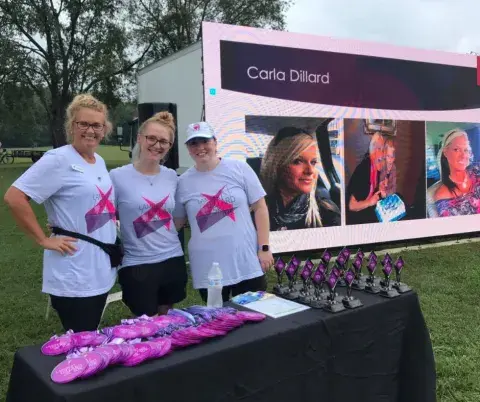 Neighbors helping neighbors should be the local Smyrna motto.
When two dear members of the Rutherford County community—Angi Ross Lambert and Carla Dillard—lost their lives 
to domestic violence, a group of friends from their former high school decided to do something about it. One of these friends was Jason Tolleson, a local business owner recently recognized for volunteerism at the North Rutherford Family YMCA. While Carla was the sister of a close friend, Jason was especially connected with Angi. "She was the high school cheerleader that loved everyone, and she always had a smile on her face," he said.
Another close friend, Amanda Surgener, felt the calling to do something. Amanda, Jason, and a few others wanted to take an active stand in their community against domestic violence to honor Angi and Carla. They went into the North Rutherford Family YMCA and talked to the staff. Amanda fought hard for the race, pushing through obstacles and overcoming rejections. According to Senior Program Director Elaine Hanks, Amanda—who is a long-standing board member at the Y—"never lost sight of the impact our YMCA has for the community and knew that [a memorial race] would bring healing." With Amanda and Jason's dedication to bettering their community, the Lambert Dillard Memorial 5K/10K race was born.
Now a Smyrna tradition every September, the Lambert Dillard Memorial 5K/10K is a time for the community to come together and raise awareness around domestic violence. For Jason, the race is an encouragement to people that they can break cycles of abuse.
"People that are living with or have lived with abuse get to come out and see that others understand those situations, and will help them wear that smile again one day," he said. "We can help them break that cycle and support them through the process."
We are committed to work with the Rutherford County Domestic Violence Program to honor, support and advocate for people who have lost their voice involving domestic violence. We have partners like Motlow College, Smyrna Police Department and Victory Church that are eager to supply clothing, basic need items and support to anyone in our county that needs it.
"When you see your own local community come out so strongly in support, it's so uplifting to those who need it the 
most," Jason said. "And, just maybe, it's enough to empower someone to no longer be a victim. That's my hope!
For more information on programs and opportunities to support or participate, contact Hodge Patterson, North Rutherford Family YMCA Executive Director, at HPatterson@ymcamidtn.org
---
Domestic Violence & Sexual Assault Resources
National Domestic Violence Hotline
---
Domestic Violence & Sexual Assault Center of Murfreesboro
DOMESTIC VIOLENCE HOTLINE:
SEXUAL ASSAULT HOTLINE
Annual Events at North Rutherford YMCA
Check out some of the great ways you can get involved with community at the North Rutherford YMCA!
Summer Camps
Our YMCA will serve 95 children ages 5-12 years old onsite every day.
Rutherford Co. Chamber of Commerce Business Before Hours
August 25, 2022- hosted at the YMCA from 7:30 am - 9:00 am in our Group Exercise Studio
Lambert Dillard Memorial 5k/10k Race
Join us in raising awareness about domestic violence and honor the lives of Angi Ross Lambert and Carla Dillard.
Annual Giving Tree
November-December we partner with DVSA Shelter to provide Christmas to youth staying in the shelter during the Holiday season.
Holiday Family Night
Join us for a fun-filled family night of arts, crafts, games, movies and more! Date in December to be determined.
Healthy Kids Day
Annually held the last day in April to celebrate youth development and welcome community partners to support healthy living for families.
Ashton Thomas Memorial Golf Tournament
Event held each year in remembrance of Ashton Thomas to help raise funds for youth development.