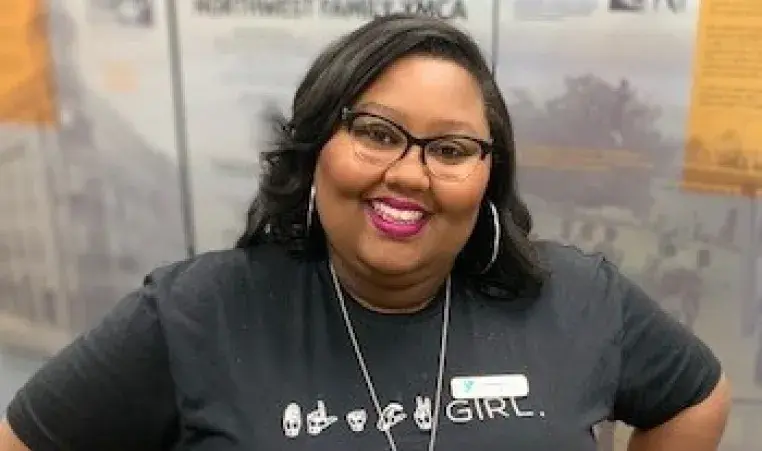 "I always thought I would wind up working at Caterpillar," says Monique Lee. "I had interned there, and my degree is in business and information systems. But years later, I find myself on a completely different and unexpected path."
Monique was recently named senior program director at the Northwest Family YMCA, and she has big goals for the center.
"I want to impact the youth and teens in the Bordeaux community by providing opportunities and resources," says the fourteen-year YMCA veteran.
Monique's "Y journey" began as a volunteer at Fun Company, the YMCA of Middle Tennessee's before- and after-school program offering care for youth in four counties.
"I participated in ballet and gymnastics at the Y while growing up in Atmore, Alabama. I wanted to get my daughter enrolled in Fun Co., and that led to me volunteering. Later, I was asked if I was interested in a job there, and the rest is history."
Monique progressed from site director to area coordinator to support specialist at Fun Co. before accepting the literacy director position at the Northwest Y in 2013.
A New Beginning
Monique's passion for youth, working with the community and the mission of the Y have helped her make the Northwest Y a second home.
"During my six years here, the Bordeaux community and the Northwest Y have changed dramatically," she says. "I love helping families and watching kids grow in a safe, fun environment."
In her new role as senior program director, Monique will oversee Family Services, Day Camp, community development and philanthropy. And she has set some lofty goals: creating a positive destination for youth and teens, growing community partnerships and making the Northwest Y the best YMCA in Nashville.
"We are so excited to add this role to our team, and we cannot think of a more deserving and qualified person than Monique," says Johari Matthews, executive director of the Northwest Y.
"The Northwest Y is growing, and Monique is the right person at the right time to help us take our Family Services, Youth Development and Community Outreach initiatives to the next level!'
Congratulations, Monique!