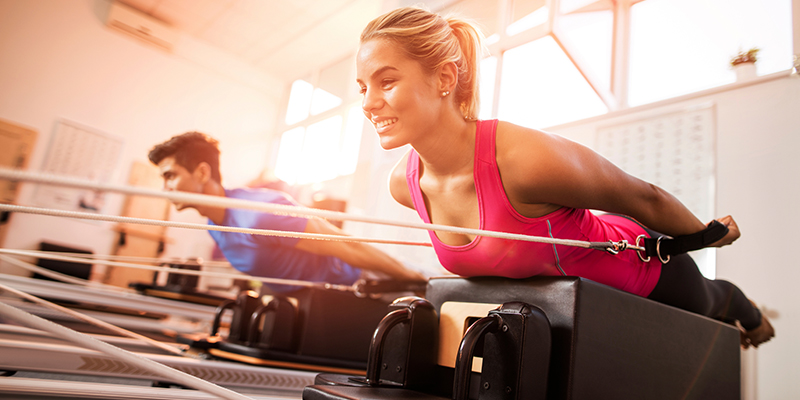 Pilates Reformer
Pilates is a method of exercise and physical movement designed to stretch, strengthen and balance the body, with an emphasis on strengthening your mid-section. Reformer classes are taught on specialized equipment that typically requires one-on-one or small group coaching. Some participants can experience faster results more quickly using Reformer equipment compared to mat-based classes.
Step One: Purchase Your Package
Choose your sessions when you buy a Pilates Reformer package today.
Step Two: Reserve Your Timeslot
Choose a Pilates Reformer session from the schedule to reserve your timeslot.
Pilates Reformer to be offered at Brentwood!
The Maryland Farms YMCA will officially close its doors at 6 p.m. on Friday, May 12. This will mark the end of our time at the Farm and the last day of reformer classes in our current space. While this is bittersweet, we are excited to share that Pilates Reformer classes will be held at the new Brentwood Y!
Class credits
If you have unused class credits and do not plan on attending classes at the Brentwood or Green Hills YMCA, you will need to contact Kari Ann (kbonner@ymcamidtn.org) before June 1.
Scheduling
The new Pilates Reformer schedule will be available on Wednesday, May 10 with classes resuming at the Brentwood Y the week of May 22. To schedule classes at our new location, 8207 Concord Road, you will follow the same process you did for scheduling at Maryland Farms. Please note that when booking your classes, you may continue to see Maryland Farms listed as the location. The location will change to Brentwood after our closing on Friday, May 12.
Final celebration
Our last Pilates Reformer classes, at Maryland Farms, are Friday, May 12 at 9 a.m. and 10 a.m. with Gail and Lisa. Afterward, join us for light snacks and refreshments as we celebrate the ending of a great era!
Questions
If you plan to pursue an option outside of the Y after our closing, please see us before May 12 and our welcome center staff will assist you. Please be aware that the cancellation of your membership is your responsibility. If you have specific questions about the Pilates Reformer program at the Brentwood Y, please feel free to contact Kari Ann (kbonner@ymcamidtn.org) or Lori Adams (ladams@ymcamidtn.org). For Pilates questions related to the Green Hills Y, please contact Helen Shaw (hshaw@ymcamidtn.org).