By Casey Seamon, Registered Dietitian
As the leaves start to change colors and we dust off the spooky and fun Halloween decorations, it can be hard not to start indulging in candies and confections. All Hallows Eve is really the kick start to the holiday season, and pretty soon, one night of candy turns into a second piece of pie at Thanksgiving and then a stocking full of sweets at Christmas.
It can be so easy to just throw your hands up, give up on your health goals, and tell yourself you'll start fresh with the New Year. But you don't have to let one night derail your healthy habits! Start this month by swapping some of the traditional treats for these healthier versions I've curated. Your dentist and your waistline will thank you.
1. Spooky Cute Monster Teeth
These cute little confections from VitaVibes are a good source of fiber and protein. With only four ingredients, both parents and kids will love them!
2. Sweet and Spicy Pumpkin Seeds
When you're carving pumpkins, don't throw out the seeds! They are an excellent source of healthy Omega-3 fats and magnesium and make for a delicious snack. Try this flavor combo from Favorite Family Recipes.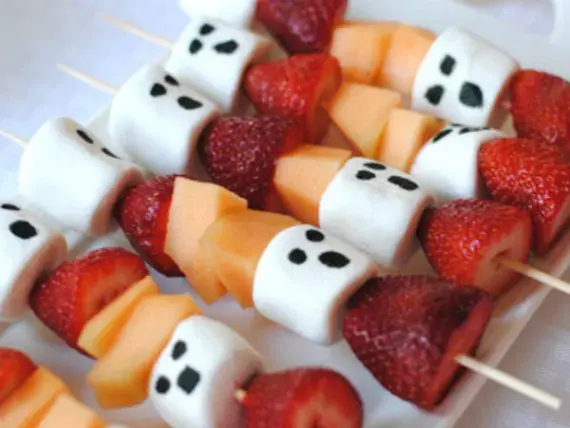 3. Ghostly Fruit Kabobs
These cute kabobs from Katarina's Paperie make an easy, popular party treat. Plus, the kiddos will have a blast helping you draw on the spooky faces!
4. String Cheese Broomsticks
String cheese offers a delicious and nutritious snack, as it not only has protein to keep you full, but also calcium to make strong bones and teeth. This three-ingredient One Little Project recipe makes a delightful party snack.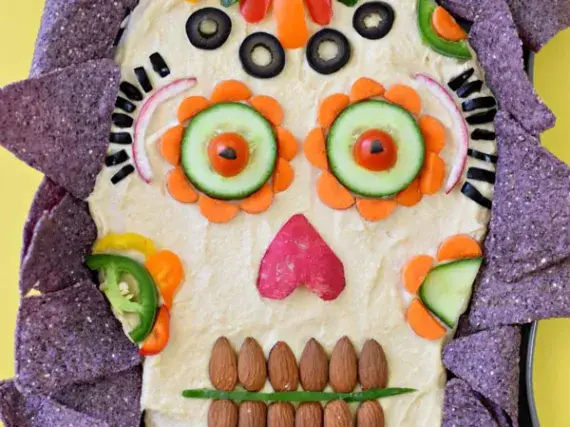 5. Dia de los Muertos Hummus Dip
This showstopping snack from Fork and Beans is so creative. It will have everyone enjoying their veggies so much, they'll completely forget about candy corn.
Hungry for more?
Check out these 5 ways to flavor pumpkin seeds and our recipe for homemade pumpkin spice coffee. Happy, healthy eating!