Before you decide you've tried every group exercise class the Y has offer, check out these eight classes that will push your body further. From drumming with weighted sticks to mastering hip-hop dance moves to downward dog on a floating mat, these challenging workouts will help you grow stronger and enjoy the journey to better health. Some classes aren't available at every center, so you might need to venture out to try something new!
Boot Camp
Don't let the name intimidate you! Our boot camp classes are a Y favorite for a reason. From beginner-level in an exercise studio, to a circuit in the gym, to a pop-up class at Capitol Hill, our innovative range of boot camps offer creative drills that will push you to higher levels of fitness. Sweat through a series of body-weight exercises and cardio bursts designed to challenge both your heart and all major muscle groups. Come set new goals at one of our boot camps, and see what you're made of.
Zumba
Dance workouts are a fun, fast-paced way to knock your fitness goals out of the park. Latin-inspired Zumba is an international sensation that gets your heart racing and your feet moving as you salsa your way towards improved health. The routines are easy to follow and set to exhilarating, upbeat music—so classes go by quickly. An added perk? Your dance skills will improve along the way.
POUND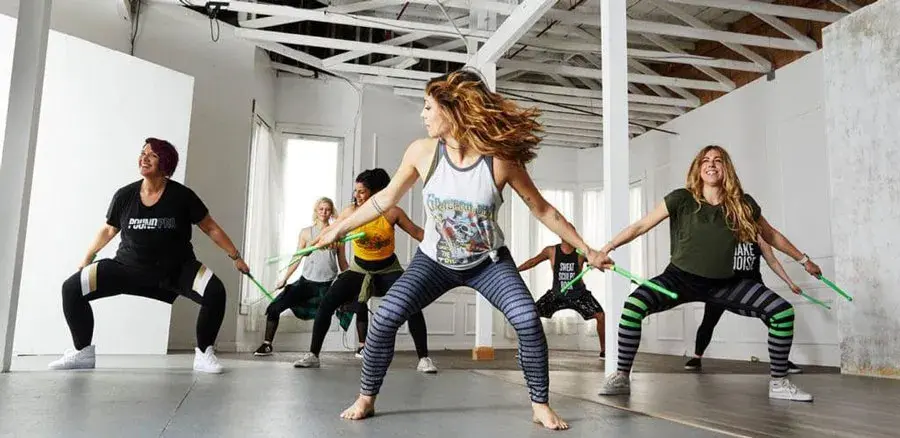 Channel your inner rock star with this full-body jam session. Using Ripstix (lightly weighted drumsticks), POUND transforms drumming into an effective way of exercising. This exhilarating workout combines cardio, conditioning and strength with yoga and pilates-inspired movements. POUND provides an atmosphere for letting loose, getting energized, toning up and rockin' out! The workout is modifiable, and the alternative vibe and welcoming philosophy appeals to men and women of all ages.
Cycling
Our cycling class is no moseying bike ride in the park. Get your heart racing on a specialized stationary bike and take on hill climbs, calorie-burning sprints, and resistance challenges. Don't mistake sitting for relaxation; you can burn between 400-800 calories in this cardio-based class. Make sure to get to Cycling early to get your bike set up, ask the instructor about proper form, and refill your water bottle (you'll need it!).
Glide FIT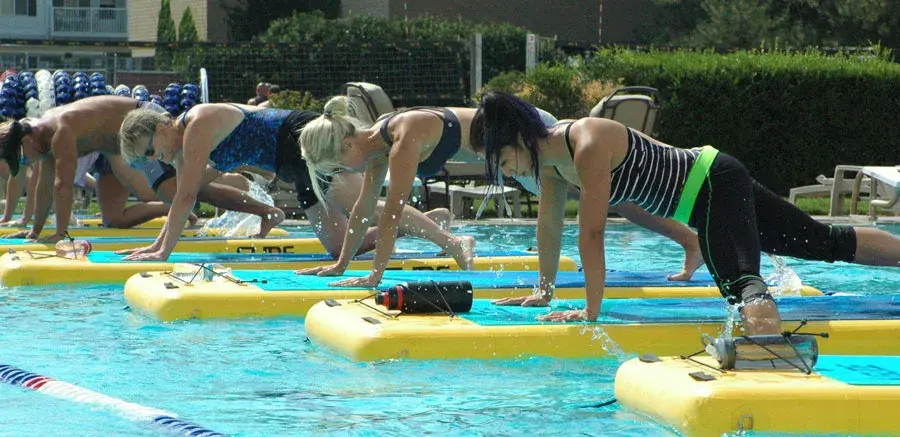 Look beyond the wellness floor into the pool to refresh your workout routine. Our GlideFIT classes take your training to the next level! You'll balance on a floating fitness mat for yoga poses, core exercises and cardio training. It's a low-impact method of sculpting your body that yields great results! GlideFIT helps you improve core balance and coordination, strengthen muscles and burn calories. Our classes are geared toward a variety of fitness levels. Plus, it's a lot of fun. Please call ahead to sign up.
Dance Blast
You'll never have the same Dance Blast experience twice with this fast-moving, heart-pumping class! Dance Blast is a fusion of dance styles, and the music varies with every instructor. You may be tackling hip-hop choreography, mastering aerobics, swinging your hips to jazz, or strengthening your core to pop. One of our most popular classes, Dance Blast can help you burn between 400-800 calories each time you lace up your sneakers—as well as relieve stress, loosen up your muscles, and relax your mind to the beat of the music.
Hydrorider
Spin your wheels in the water in this unique aqua cycling class. Yes, really! Perfect for all fitness levels, Hydrorider combines the best of cycling with the many benefits of exercising in the water. This fitness class has become popular with many exercisers due to benefits like high caloric burn, lean muscle-building and increased circulation—combined with low impact on joints. It's a fun and rewarding experience for adults of all ages. Please call 24 hours in advance to reserve your spot.
Yoga
If you've never tried yoga at the Y, you're in for a relaxing treat. Focus your spirit and your mind with this low-impact class that stretches muscles, builds core strength and improves coordination. Yoga classes can range from slow-moving therapeutic pose progressions to faster-flowing movements and challenging balance positions, all of which increase your flexibility and help you unwind.
Looking for more? Check out the full range of group exercise classes available at our centers across Middle Tennessee.