When you think of a group exercise class, your mind may go directly into cardio mode. At the Y, we offer over 1,800 group classes every week, and a good chunk of these are focused on cardiovascular activity. From Boot Camp to HIT training to R.I.P.P.E.D., our cardio-focused classes are "a blast," as long-time instructor Linda Dillon says.
In a cardio class, you'll be getting your heart rate up. You may use weights (like dumbbells) or just your body weight. Some classes use other equipment, like BOSU balls or medicine balls. Every class, and instructor's style, is different.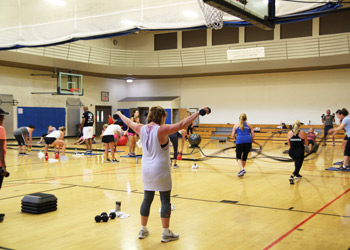 The After Burn
Cardio classes offer a major perk to exercisers: your body will continue burning calories even after class is over.
"I love getting the heart rate up into that anaerobic state because it's helping you burn calories later on when you leave," Linda says. "After you're done working out, your body is still working for you. If you're in the anaerobic state for a certain amount of time in a 60-minute class, your body is going to be working and burning for the next 24 to 36 hours to replenish the oxygen and glucose you lost."
The Energy
If you need a little extra motivation in your workout, a cardio-focused group exercise class is the place to be. "Classes are always high energy with fun music," Linda says. Combined with the encouragement of your class community, this incredible energy will push you harder and further in your workout.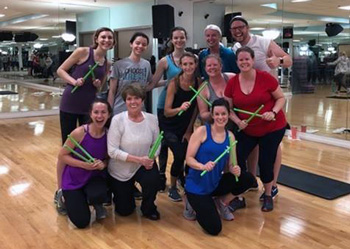 "I want my classes to be positive, and I want to make sure that people feel successful whether they can do one push-up or 50." She sees firsthand the importance of community in members reaching their goals. "When people come in and see the same people cheering them on, it's a very positive, reassuring feeling," Linda says.
Welcoming Everyone
If you think cardio classes are only for the in-shape, you're wrong. Everyone has to start sometime. "You'll have members that have been doing classes for years and then you'll have members who are coming for the first time," Linda says. "That's what's great about our cardio classes. We give options to modify the moves and encourage participants that it's okay to do whatever you can do."
If you need a modification because of knee pain, or you have stiff joints, or you are recovering from an injury—you are still welcome in the class.
Strengthening Your Body
You'll be burning lots of calories, yes, but did you know that you'll also be strengthening your heart in a cardio class? Exercising in intervals—meaning that your heart rate will go up, then back down, then back up—builds your endurance. Strengthening your heart's endurance means improving in overall wellness and being able to live a more active life.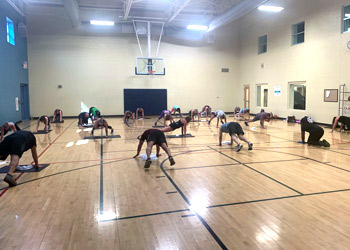 Linda has seen many success stories in her classes. "It makes it all worthwhile to see members improve. Maybe they were feeling insecure, or they didn't feel strong—when they start reaching their goals and feeling strong and empowered, there's nothing that can compare to that feeling. That's why we as instructors do what we do."
Finding relaxation
"I think cardio is really great for burning stress at the end of the day. If you've got a lot of tension or things on your mind, just come in here," Linda says. "You don't have to think about it. The instructor will give you the information on what to do, and you can just let go. When you leave, you always feel better."
In addition to leaving your frustrations at the door, the feeling of overcoming a challenge—like a Boot Camp class—is rewarding. "When you do something that, yes, is a bit challenging but then you succeed, it makes you feel stronger," Linda says. "It's great to have that feeling. And, everybody can do it at all levels. All of our Y instructors are great about letting members lead with their strengths. Follow through, and if there's something you're not able to do, that's okay."