Creating health goals can be daunting when you don't know how to reach them. Whether you're looking to lose weight, learn exercises, sleep better, improve flexibility, build strength or condition for an event—a personal trainer can make all the difference.
A personal trainer gives you a specialized plan designed to get you exactly where you want to go. Each personal trainer at the YMCA is nationally certified and has a commitment to you and a passion for our mission to help our community thrive. Couldn't we all use a little extra encouragement?
Our approach
"Personal training takes a holistic approach to health," says YMCA personal trainer Trey Presley. "That hour is going to infect the rest of your day. You're going to feel better, you're going to move better and you're probably going to sleep better. And that's why it's so important to know that personal training is for everyone."
Young or old, regular exerciser or first-timer—personal training is a great way to dive in and get to work with someone that keeps you accountable. With our personal training interest form, new clients can look at schedule options, styles of training, and what type of session could be a good fit. We'll work on pairing you with the right trainer based on what you've indicated.
Learn about how Yomara found renewed energy and deeper sleep with her trainer, Janet.
Getting started
When Trey is given a new client, his first goal is to better understand their needs. "I reach out to them through a phone conversation or email and set up a time for an assessment," he says. "I assess what kind of injuries they're bringing to the table and what their goals are. The second engagement with a new client would be a physical assessment so I can check their balance and strength levels."
After that second assessment, the personal trainer designs a plan of how best to help the client reach their goal. In the third session, clients put that specialized exercise plan to the test. "By the fourth session, my goal is to be on a pattern with the client so that I can give them exercises to do even when I'm not with them," Trey says.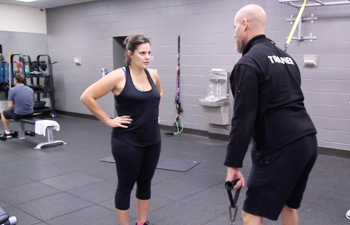 Sticking to the plan
One of Trey's clients, Madeline, was bored with her exercise routine and decided to try personal training after seeing the workouts that trainers were putting together for their clients.
"I love the accountability," she says. "It's really great to come in and have someone here to help me out. When we don't have sessions, I have a formula or a plan that [Trey] has put together for me to move forward on my own."
She's found that having a personal trainer pushes her further than she'd go by herself. "With [his] experience, knowledge and certifications, Trey uses my restrictions and my strengths to move forward toward the better person I can be."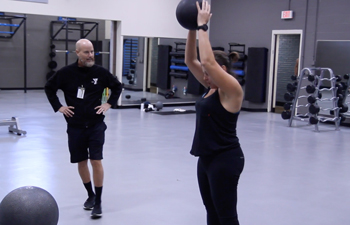 Finding flexibility
Personal training is available at all 14 YMCA locations across Middle Tennessee. Sessions are offered in 30- and 60-minute increments at different times of day throughout the week.
You can find a session that fits perfectly with your schedule and style!
Making clients feel valued
At the end of the day, Trey says he wants his clients to know that they are a priority. "I want them to feel important. Every hour that they get from me, I am giving them my full attention."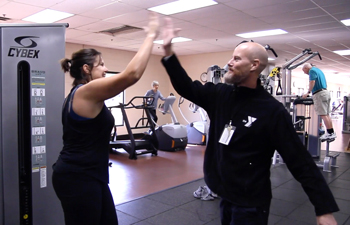 As for the other hours of the day, Trey teaches his clients to be mindful when they're not in the gym. Those habits affect their goals, as well.
"I want them to be intentional with every movement they do, whether it's getting on an elliptical, lifting weights, or walking with their kids. I want them to think about how their body moves," he says.
While stepping foot into a fitness facility for the first time can be intimidating for new exercisers, Trey bridges the gap by making his clients feel comfortable. "Not everyone can walk into the Y and feel like they belong here. I want my clients to feel like I'm going to usher and shepherd them through their experience here, every step of the way. [The Y] is like my house, so I want them to feel welcome."
Learn more about personal training at the YMCA and fill out our interest form to get started.